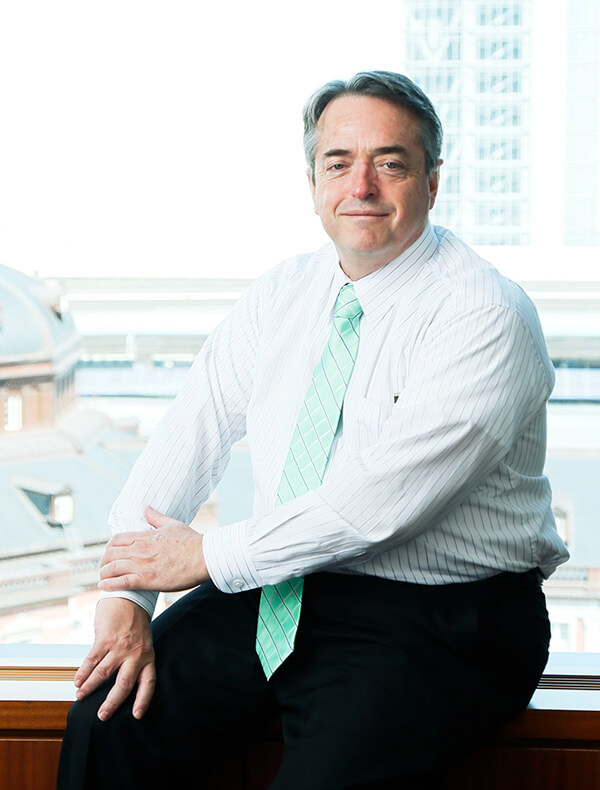 Genomic Health, Inc
Geoffrey J. Hasemer, Chief Executive Officer
※Position at time of interview
The CEO of Genomic Health, Inc., speaks of the future of breast cancer:
A major step toward individualized treatment, and to end overtreatment
Today, one in 12 Japanese women develop breast cancer, and its incidence rate is increasing annually. According to the National Cancer Center of Japan, the five-year survival rate for breast cancer patients is over 90%. While breast cancer is seen as a relatively easy to cure cancer, the five-year survival rate drops to around 30% in its advanced state.

In reality, there are various types of breast cancer, and effective therapies exist for each. However, this also means that, with the wrong diagnosis, a cancer may not be treated with treatment method that is most effective for it.

The Oncotype DX® breast cancer test was developed to solve this problem. With this test, 21 kinds of genes are analyzed to predict the probability of breast cancer recurrence within the next 10-year period. The results are conveyed as a quantified score between 0 and 100, which is used as a basis for the selection of the "optimal treatment" for the patient.

"Breast cancer therapy is highly problematic"

Thus emphasized Geoffrey J. Hasemer, Chief Executive Officer of Genomic Health, Inc., the company that developed Oncotype DX®.

"There are many cases of breast cancer wherein recurrence can be prevented simply via hormone therapy, without the need for post-surgery chemotherapy," states Mr. Hasemer. "Yet, establishing such diagnoses is extremely difficult. As a result, 'unnecessary chemotherapy' is frequently administered. Naturally, the side effects of chemotherapy are damaging to a patient's body. More than half of the cases of invasive breast cancer are early-phase, hormone-receptor positive, HER2-negative, and lymph-node metastasis-negative (or 1–3 positive lymph nodes). Less than 5% of all such cases would benefit from chemotherapy. Nevertheless, when a diagnosis is made on the basis of preexisting treatment decision criteria, chemotherapy is performed 'just in case' for the overwhelming majority of cases."

Mr. Hasemer is proud that the Oncotype DX® test is contributing globally to the prevention of the overtreatment of early breast cancer, and to the provision of optimal treatments. The test has been included in the guidelines for the treatment policy decisions that cover a patient base exceeding 700,000 people worldwide. The positive effects of the Oncotype DX® test are recognized in healthcare industries from many different countries. In Japan, however, healthcare insurance does not cover test-related expenses, which can culminate to over 400,000 yen. This is a reason that the Oncotype DX® has yet to penetrate the general Japanese market.

"We eagerly seek to provide our services to the people who need them," Mr. Hasemer stresses. "Cancer is an illness where much research has yet to be performed. In the future, there will be greater diversification of treatment methods, with more specialized drugs and dedicated devices. Novel treatment techniques are also sure to emerge. Thus, countries will be faced with decisions regarding what kinds of treatments to introduce and support, and what kinds not to emphasize. It is a fact, however, that the domestic systems for managing health affairs are still underdeveloped in many countries, including Japan. Every nation is worried about soaring health costs. Failure to implement best practices will reduce the significance of technological developments. This is also a serious global issue in terms of cancer treatment."

By the time he took the helm at Genomic Health, Inc. in Japan, Mr. Hasemer had already pioneered a successful management consulting business, chiefly in healthcare, with clients in Japan and abroad. In the summer of 2014, Mr. Hasemer joined EGG JAPAN in Marunouchi, Tokyo as the Managing Director of the newly formed Genomic Health Japan LLC (the company name at that time). At the time, he only used a booth for one person at EGG JAPAN, but the company moved into a bigger office within EGG JAPAN as the number of employees grew.

"We have many clients who visit our office, both from within Japan and overseas," explains Mr. Hasemer. "It is important for us to have an office here in Marunouchi, with its easy transport access. Being in the Tokyo Central Station's neighborhood is especially convenient for hosting overseas visitors from our head office or those who are doctors. The flexibility offered to us at EGG JAPAN is also important, as they will provide us a larger office as our employee numbers increase."

In pursuit of his mission to relieve the pain and anxieties of women worldwide who suffer from breast cancer, Mr. Hasemer plans to continue his busy work around the globe, with his base at EGG JAPAN.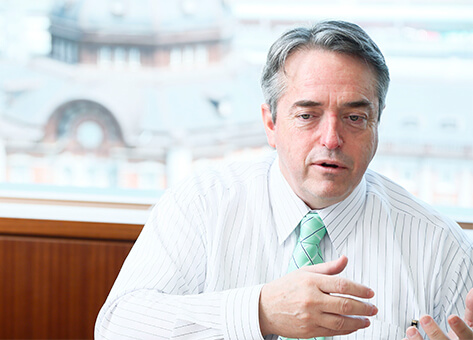 Geoffrey J. Hasemer
Mr. Hasemer hails from Perth, Australia. After attending the University of Western Australia and Hitotsubashi University in Tokyo, he joined a company in Tokyo. He went to the United States in 1987 and received his MBA from Stanford University in 1989. After studying business in the San Francisco Bay area, with its large concentration of healthcare and IT venture companies, Mr. Hasemer worked for Pilkington Visioncare and, later, the Guidant Corporation. After returning to Japan, Mr. Hasemer served as a managing director at Cordis Cardiology Japan and at Johnson & Johnson (Medical) Japan, followed by his appointment as President of Abbott Vascular Japan K.K. He assumed his current position at Genomic Health, Inc. after serving as the operating officer and head of sales at Fuji Respironics under Philips (Netherlands).

Genomic Health was founded in 2000 in Redwood City, California. Its stated mission is to replace the one-size-fits-all approach to fighting cancer by promoting personalized care using the latent capabilities of the genetic revolution.
The Oncotype DX® Breast Recurrence Score test was launched in the United States market in 2004. This test was introduced to the Japanese and European markets in 2007.